GAGA
SUMMER WEEK I
Montag bis Freitag, 17. – 21. JULI 2023
10.30 bis 12.00 Uhr
und
17.00 bis 18.00 Uhr
all are welcome
Was erwartet dich?
In einer Gaga Lektion gibt es keine Pausen, keine Übungen, aber einen Fluss von Instruktionen. Eine Instruktion hebt die vorhergehende nicht auf, sondern sie beziehen sich aufeinander. Deshalb ist es zentral, nie mit dem Bewegen aufzuhören. Hat man keine Kraft mehr, kann man die eigene Intensität reduzieren. Wir sind barfuss und lassen uns von den Instruktionen und den anderen TeilnehmerInnen inspirieren.
Was ist GAGA
Gaga is a new way of gaining knowledge and self-awareness through your body. Gaga provides a framework for discovering and strengthening your body and adding flexibility, stamina, and agility while lightening the senses and imagination. Gaga raises awareness of physical weaknesses, awakens numb areas, exposes physical fixations, and offers ways for their elimination. The work improves instinctive movement and connects conscious and unconscious movement, and it allows for an experience of freedom and pleasure in a simple way, in a pleasant space, in comfortable clothes, accompanied by music, each person with himself and others.
«We become more aware of our form. We connect to the sense of the endlessness of possibilities. We explore multi-dimensional movement; we enjoy the burning sensation in our muscles, we are ready to snap, we are aware of our explosive power and sometimes we use it. We change our movement habits by finding new ones. We go beyond our familiar limits. We can be calm and alert at once.» – Ohad Naharin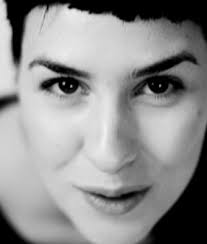 TANJA SABAN is a dancer, Gaga teacher and yoga practitioner. She graduated from SEAD training program in 2007. She is a recipient of the conveyor scholarship from the Tanzquartier in Vienna, where she started her career as a freelance dancer and teacher. Tanja collaborates with choreographers and artists of other disciplines on projects as well as creating her own work in Austria, Spain, Switzerland, Israel and New York City.
In 2008 Tanja began to immerse herself into the practice of yoga with her teacher Sri Louise, under whose guidance she completed 400 hours of teacher training in Vienna and Rishikesh, India. She was invited to assist Sri Louise in workshops and a 50 hour yoga teacher training for dancers at Impulstanz Festival in 2011, 2013 and 2018.
After taking her first Gaga classes in 2011 in New York, she moved to Tel Aviv one year later where Gaga became part of her daily practice. Since 2018 Tanja is a certified Gaga teacher. Her teaching practice is currently centered in both Zurich and Berlin.
Mirjam Karvat studierte an der Londoner Contemporary Dance School in England. Nach ihrem Abschluss im Jahr 2009 arbeitete sie mit verschiedenen Tanz-Kompagnien und in vielfältigen Produktionen von Musical und Oper zu Contemporary Dance und Physical Theater. Am Theater Basel gastierte Sie als Tänzerin in Produktionen wie u. a. «Jesus Christ Superstar», «Don Giovanni» und «Lucia di Lammermoor». Zurzeit arbeitet Sie als freischaffende Choreografin und ist zudem europaweit als Gaga-Lehrerin tätig.